Why I Dropped Apple Watch for a Mechanical Watch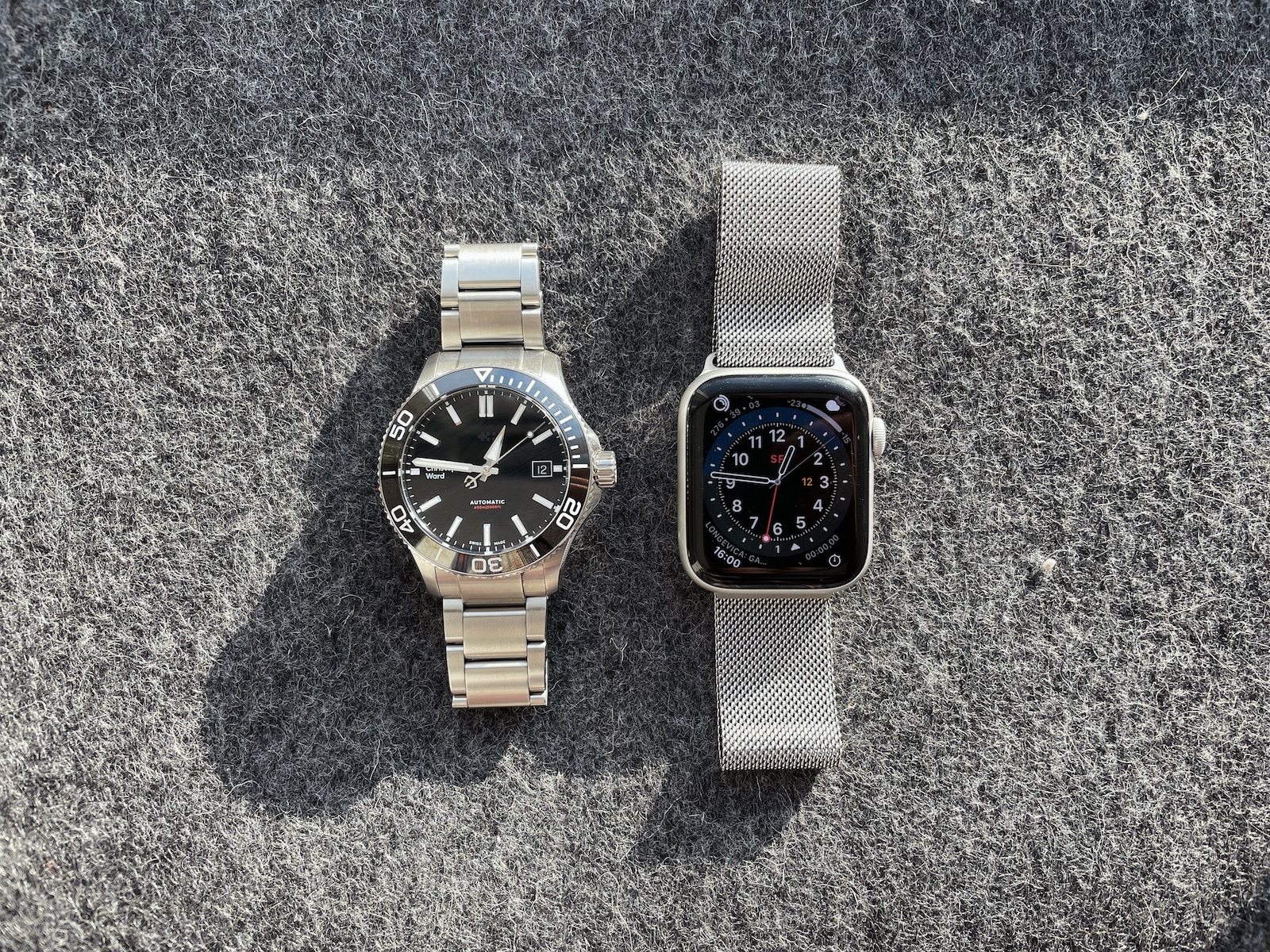 I've always been into watches and for the last 5 years, since Series 2, I've been almost exclusively wearing an Apple Watch. Recently I pulled a trigger on a mechanical timepiece I wanted a long time ago and have been enjoying it since. There's a lot of people who went in the opposite direction but I haven't seen too many people who got out. In the end, mechanical watch movements are an obsolete technology and a basic quartz watch can challenge Rolex for its accuracy, while an Apple Watch can provide you with unique complications and features, such as notifications, weather, or calendar alerts.
But first, why wear a watch in the first place? We all have precise atomic time on our phones. Well, to me that's simply not enough, I want to be able to just glance and get a feeling of time. Not sure how you can be punctual without that. Therefore, I need a watch.
Apple Watch has some amazing capabilities for a $400 device. Let's start with easily-accessible powerful complications with a user-friendly interface like timers, stopwatches, and alarms. And then there are unique complications you won't find on any other watch: weather, calendar, notifications from your phone. Yet, in the end, I wasn't compelled.
Below are five reasons one might prefer a classic watch instead.
Distractions
Apple Watch wants too much from me. Unless you proactively disable and mute notifications you'll be bombarded with every alert you're getting on the phone and watch-induced requests, like suggestions to stand up, exercise, or marvel at your partner's fitness achievements. Sometimes you want that but in the evening I just wanted to get rid of it.
Having a "dumb" watch allows me to separate contexts. I can put off my phone and nothing will disturb me, unless it's something truly urgent – then people will probably call me. You can go and disable all notifications on the watch, but it kinda raises the question of whether you wanted it in the first place.
Design
Apple Watch is by no means terrible, but unless you buy a stainless steel version it still looks like a fitness gadget. I just don't enjoy looking at it, especially compared to my quartz and mechanical watches. Whether it's a $50 G-Shock or a $1000 mechanical timepiece, they just have a lot more character in them. And since you're going to replace it in a couple of years I feel a bit weird paying for that steel and sapphire.
That is also part of the reason you might want a mechanical piece. Most esteemed watch companies, with the exception of the likes of Grand Seiko, are focused on mechanical watches. If you want something truly beautiful and exquisite you likely will go mechanic.
Readability
The same applies to watch faces. Apple Watch is fantastic in the way it allows you to build your own watch using the design you like and the complications you need at the moment.
When I was a kid, I did have issues with reading analog watches – simply because for the first twelve years of my life, I didn't have them at home. But I've learned and now I can read analog watches with a single quick glance. Apple Watch has gotten much better since Series 5, when Apple added an always-on display. Still, I realized I need to spend a few tenths of a second more to grasp it. Unfortunately, Apple's watch faces just aren't great. Marco Arment wrote a pretty extensive post 4 years ago and not much changed since then. Designers at Apple clearly know watches and recreated many classic designs like Divers and Chronographs. But they almost often lose important nuance making it's quite hard to read the analog time quickly. For instance, all hour markers are usually the same, both hands have the same thickness, and so on. The only good analog watch face is California.
Apple Watch is clearly better as a digital watch, and I believe there's an opportunity to improve. You either have Infograph Modular with a clock that's rather small or artsy faces where digits take the entire screen with no place left for complications.
What I want is something like this. On Apple Watch Nike there's a similar watch face but it's not pretty, has visual bugs, and one slot is always taken by Nike Running, which I don't use.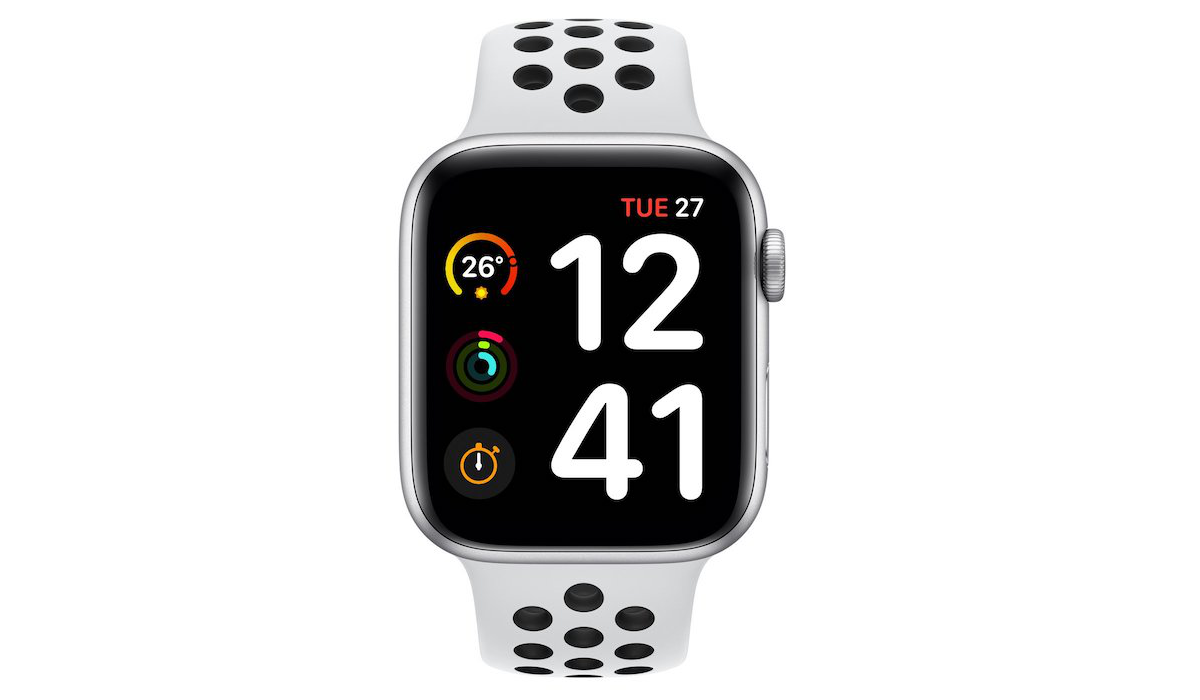 Longevity
To me, my watch is almost like my friend (don't worry, I have friends). It's with me all the time. I change my clothes but I wear the same watch. It might very well still be on my wrist in 20 years' time. And from that we got the most massive disadvantage Apple Watch has – it's short-lived. Even if you replace the battery on your Watch, in a few years it'd look painfully slow and you'd have to upgrade. It's a replaceable gadget.
Both mechanical and quartz watches can survive for decades with basic care and maintenance. With mechanical watches, you need to have them serviced and while that can be quite expensive, especially in the case of in-house movements powering complicated watches, it'll at least work perfectly afterward. Quartz watches are easier, you just need to replace the battery and ensure they won't leak. Even some of the first quartz watches from the 70s are still running. Although, if something does break inside finding a replacement part might be challenging. With simpler mechanical movements it's a bit more obvious.
And if you do that, your kids can wear the same watch. Whether you cherish that idea or not is entirely up to you, but I like it. My father had a collection of mechanical watches and I enjoyed looking at them as they were telling me about his life.
Battery Life
Apple Watch needs to be charged every night to operate properly. If you go out late at night you might end up with a dead watch. If you travel, even only for a weekend, you have to bring a dedicated charger.
Quartz watches live between 2 and 10 years on a single battery. There are some fantastic pieces that operate on solar power so you only need to replace the accumulator when it's just dead – most outlive the 10 years period stated by the manufacturer. Mechanical watches usually live between 40-80 hours, but most of them are automatic, meaning they utilize the kinetic energy of your movement to charge. It's a fantastic device, both mechanically and philosophically, as it's literally powered by your own body.
The fact I can trust my watch to continue going however late it is, take it off my wrist, and just put it on in the morning while it's still running is a blessing.
---
Maybe this isn't forever. Maybe Apple Watch Series 9 will be able to track my blood pressure and glucose 24/7 and it will become a necessity for sustaining health and I'd switch. And I'm still using Apple Watch for training and sleep tracking (mostly for the silent alarm feature). But for the moment I'm enjoying watches that don't add anxiety in my life.
If you liked this post, subscribe to get new content right in your inbox!