The PARA Method in Workflowy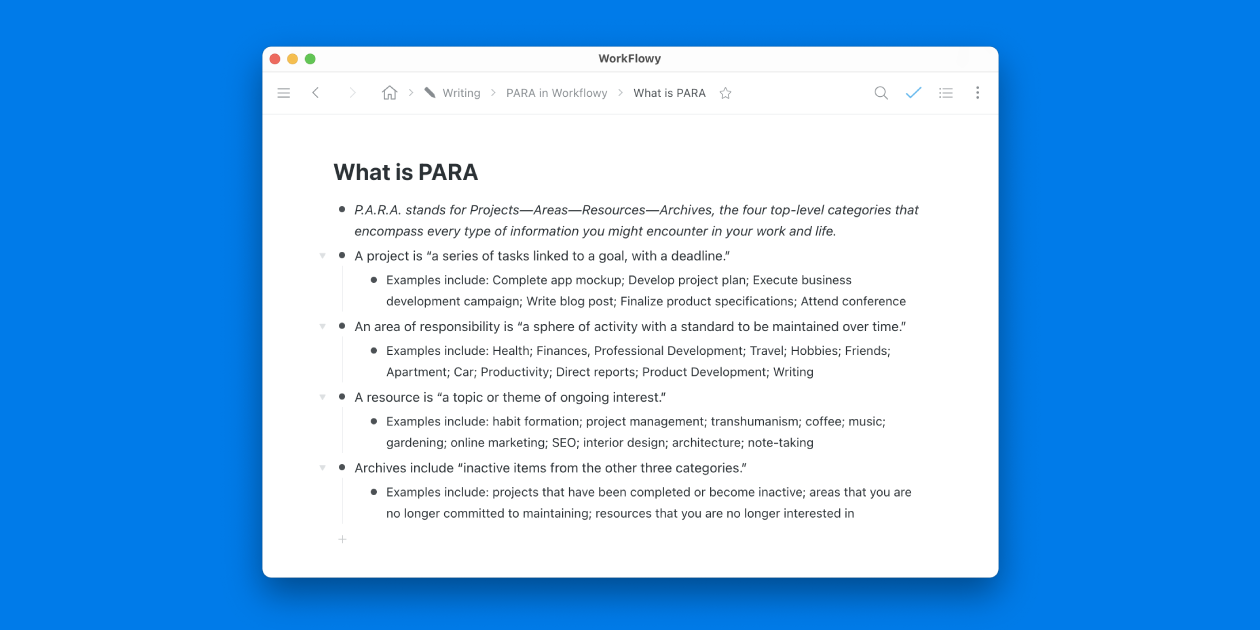 PARA is a methodology developed by Tiago Forte, a revered productivity expert.
When I first learned about it seemed way to specific for me to implement. But as I was changing various tools, recently I realized that what I build for myself in Workflowy very closely resembles it and decided to complete the move.
Here's what I love about PARA:
It creates strong distinctions between actionable projects with deadlines and more general things you might have.
It incentivizes documenting and going over various areas of your life to ensure you move forward.
It's very flexible and can be recreated in any app, whether it's Evernote, Roam Research, Notion, Bear, or Workflowy where I built it.
Some people are perfectly capable of moving forward without writing structured notes. They have innate drive and perfect memory that they can utilize. I'm not like that and have always been using various apps and tools to offload the tasks and knowledge to extend my brain's capabilities.
You also need to find the right tools. For instance, for the longest time I've been using read-later apps like Pocket and Instapaper and bookmarks managers like Raindrop. What I realized is that just saving content isn't enough. You have to process it through yourself and ideally save in some open system that makes it easy to resurface. You wouldn't be able to remember why the hell you saved that article, and even if there are highlights it's hard to extract them. Instead I suggest that you find one text-based app for all that knowledge.
What is PARA
P.A.R.A. stands for Projects — Areas — Resources — Archives, the four top-level categories that encompass every type of information you might encounter in your work and life.
A project is "a series of tasks linked to a goal, with a deadline."

Examples include: Complete app mockup; Develop project plan; Execute business development campaign; Write blog post; Finalize product specifications; Attend conference

An area of responsibility is "a sphere of activity with a standard to be maintained over time."

Examples include: Health; Finances, Professional Development; Travel; Hobbies; Friends; Apartment; Car; Productivity; Direct reports; Product Development; Writing

A resource is "a topic or theme of ongoing interest."

Examples include: habit formation; project management; transhumanism; coffee; music; gardening; online marketing; SEO; interior design; architecture; note-taking

Archives include "inactive items from the other three categories."

Examples include: projects that have been completed or become inactive; areas that you are no longer committed to maintaining; resources that you are no longer interested in
By the way, if you're not familiar with Workflowy you can read some overview of the concept and a more detailed guide here.
My Setup
Here's a screenshot of my home page in Workflowy.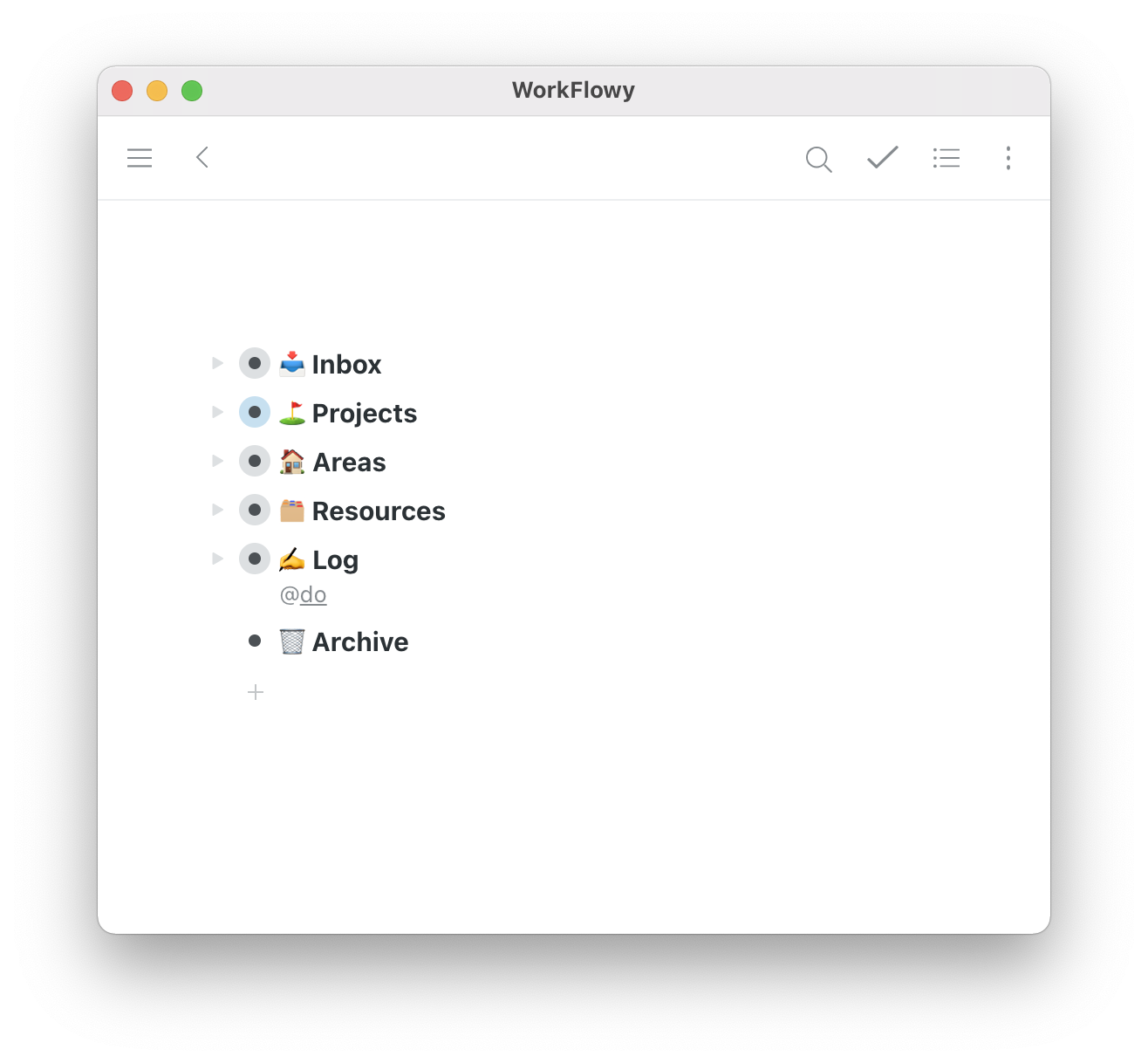 Some of these nodes aren't parts of PARA and that's OK. You can adjust it as you go and my work has very different needs vs my writing compared to the core workflow.
Here's how I recreated the four parts.
Projects
I have a dedicated Projects node that includes all big things I'm working on now or planning to work in the near future.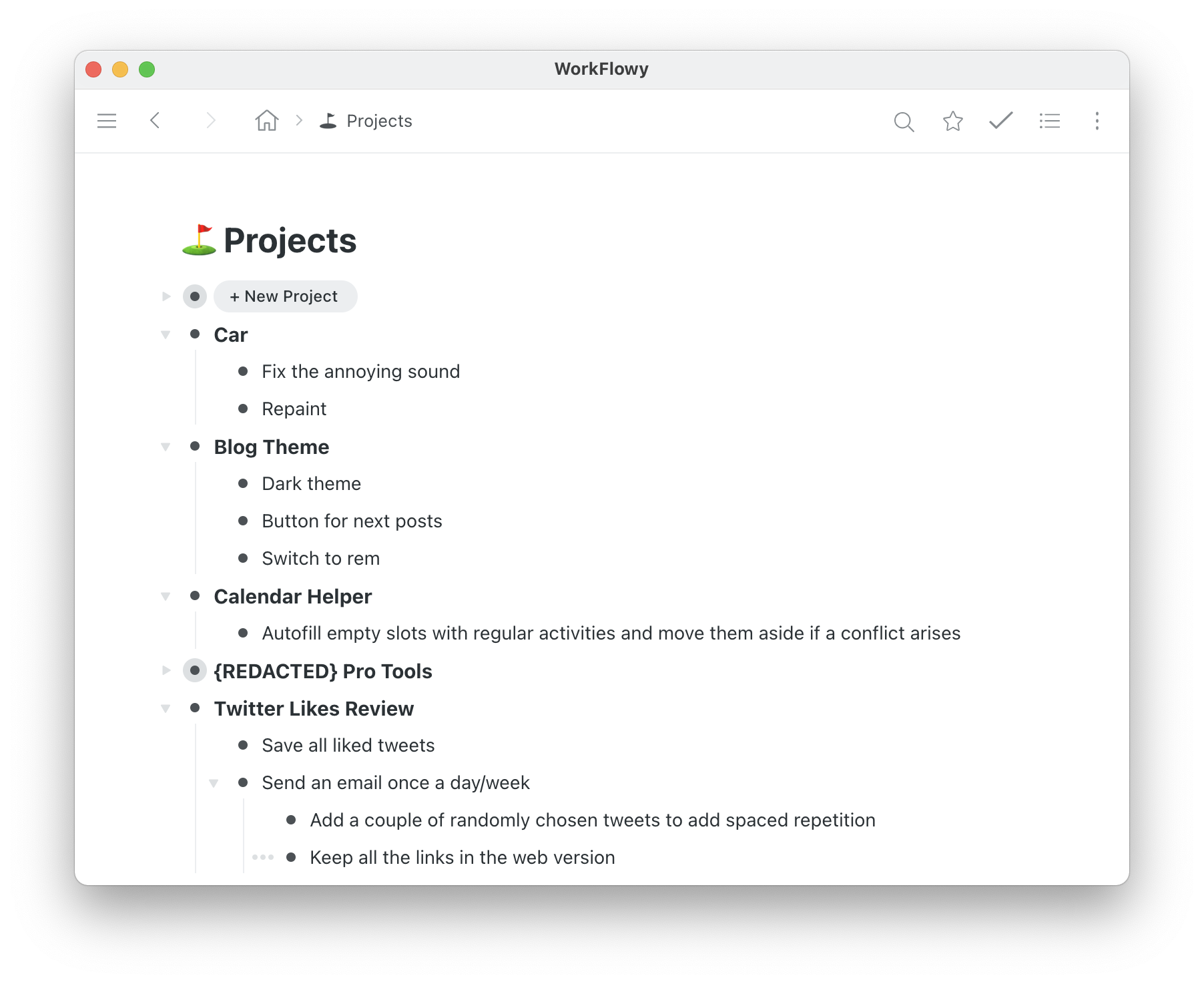 Ideally, you'd commit by putting a date here but I'm too focused on my primary job (where we use a team management service) so I'm allowing myself a bit more freedom here.
With Workflowy you can also mark the tasks you're planning to work on right now or focus more. In fact, I use exactly these tags throughout my setup: @do and @focus.
Areas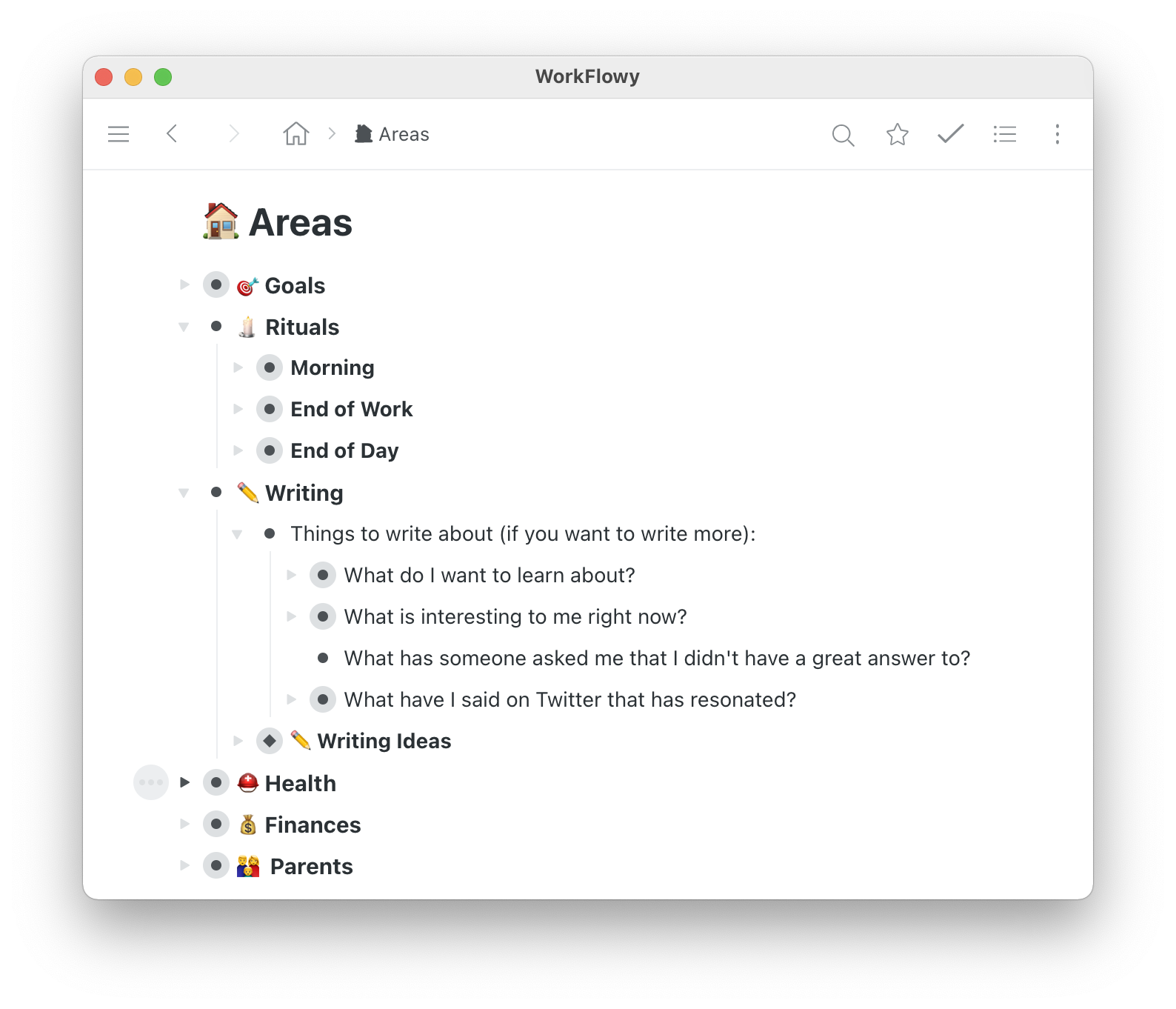 The whole point of Areas is to documents some parts of your life you're responsible for. Core work responsibilities, relationships with your partners and parents, travel ideas you have in mind. Sometimes specific items can turn into projects.
Areas are personal, it's something about you specifically. You can have an area called "Health" and a resource called "Health". The first is about your own health: records, notes from doctors, workout program. The second can be a collection of health-related tips and links generally.
A great added advantage of Workflowy is the ability to expand and collapse nodes and their content. Meaning you can choose the areas you want to review every time you go here versus everything else.
Resources
Resources are used to collect ideas on specific topics you're merely interested in, ranging from product management to business strategy to gardening. In original PARA, Resources are organized very similarly to other categories. You create top-level folders or nodes for each topics and collect the stuff you like in them. So you'd set them up just like the Areas category in terms of taxonomy. The main different that resources aren't actionable, they're merely collections of notes and facts you want to preserve for future work.
I personally separated Resources into two sub-categories. More general stuff goes into a classic category like PARA would suggest.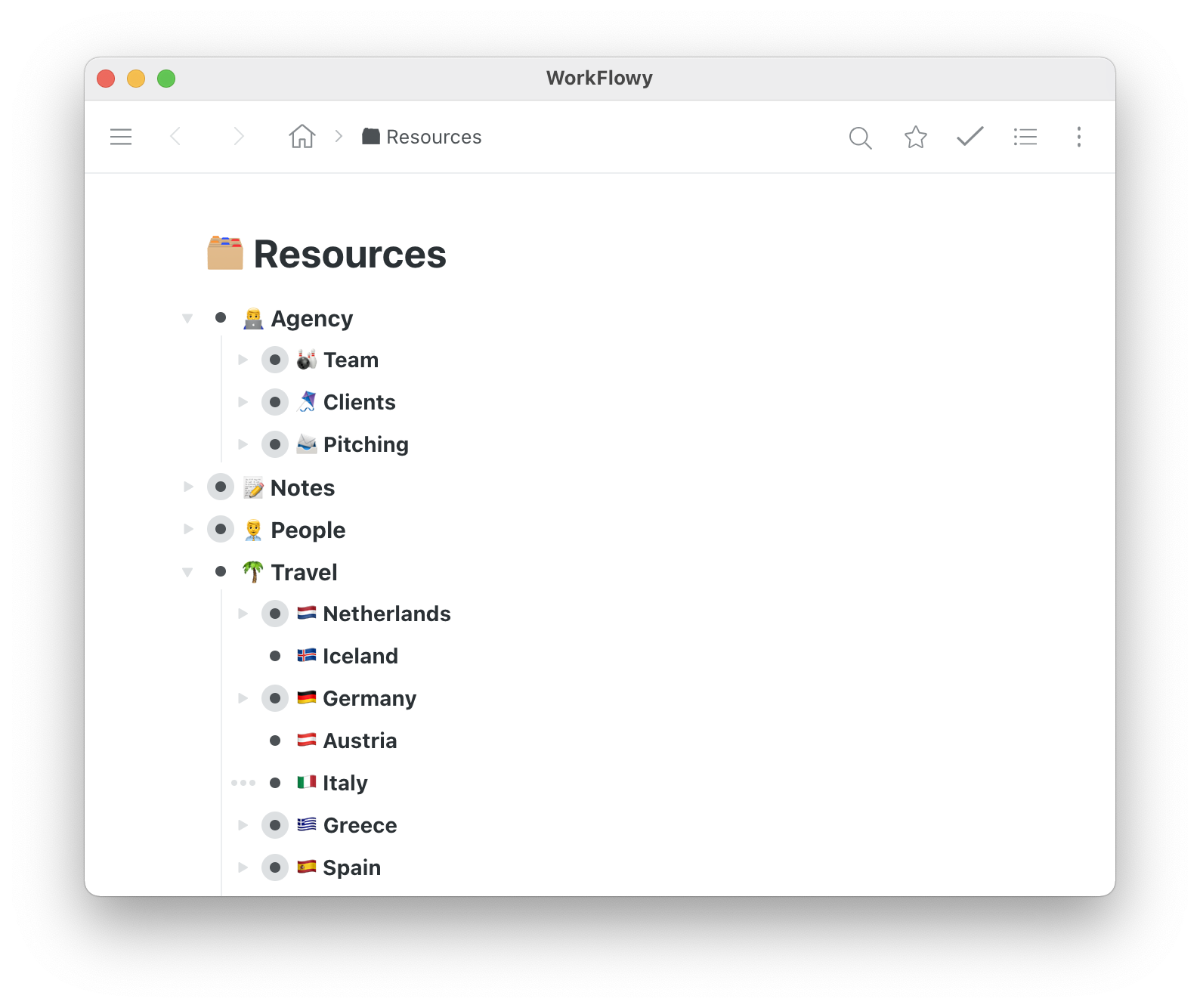 That's the part I'm not really sure about and where I go a bit far away from the original PARA. To me it seems that the system practically demands you to know what categories you're interested in advance and you also have to find a single topic that a particular note would go into.
Fortunately, we have invented tags specifically for that purpose. Workflowy has them too. Meaning you can drop thoughts, clips and links in some place and just write tags like #product or #career to help you locate and review them later.
Of course, you could have a single giant list for resources, but I took a page from Roam Research, more specifically its Daily Notes. Every day I create a new node with a today's date in the "Log" node that stands for Resources (just wanted it to be a bit shorter) and dump everything I want to save right here with the right tags. It has an added benefit of automatically logging when did I save it, which also always me to use Log for journaling – I just mark it with a tag.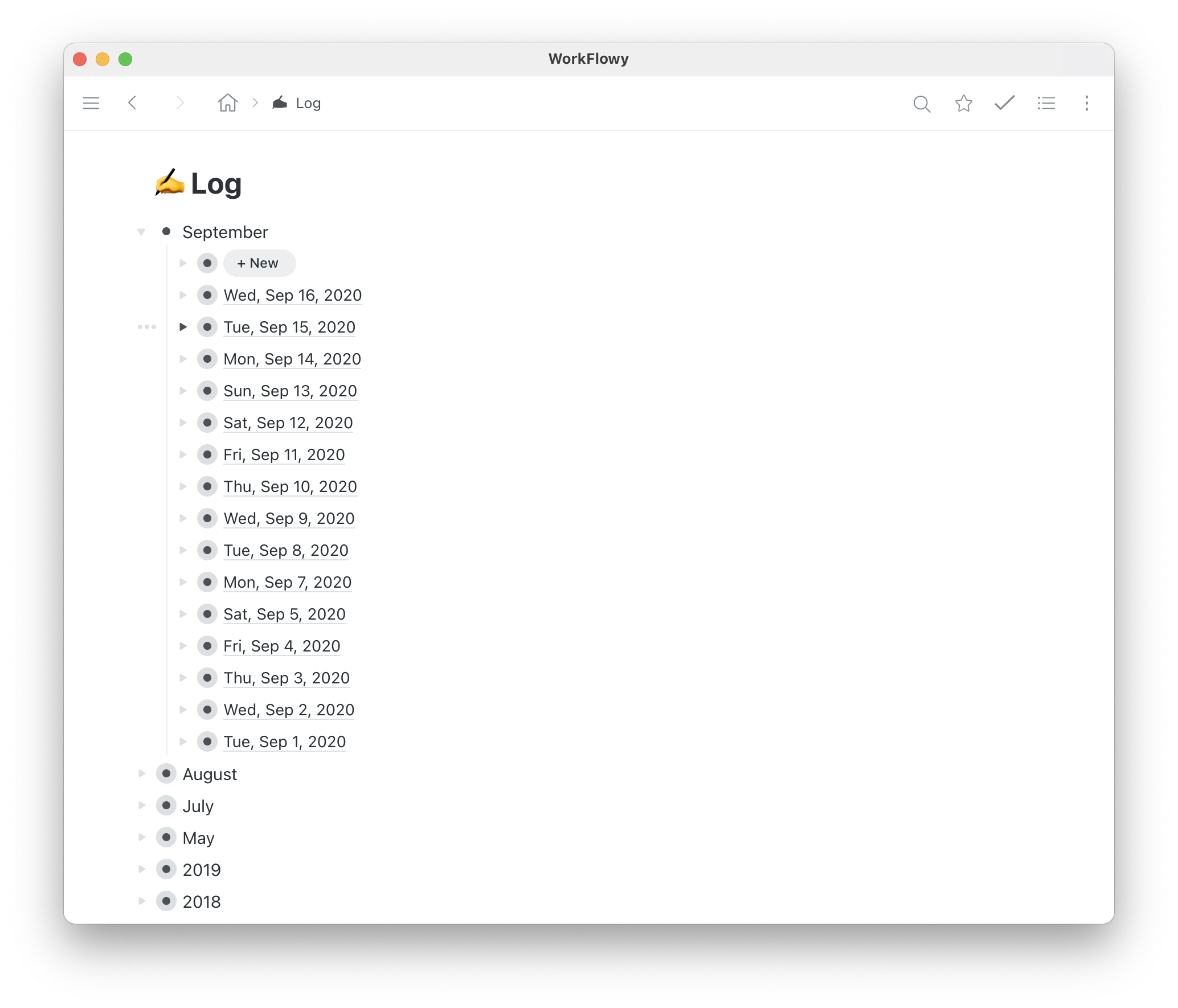 So when you want to revisit a certain resource or find what exaclty have you learned on a single topic or concept – you can just toggle that particular tag and only surface the nodes related to it. I use a small browser script to build the index so I could remember what resources I have more easily.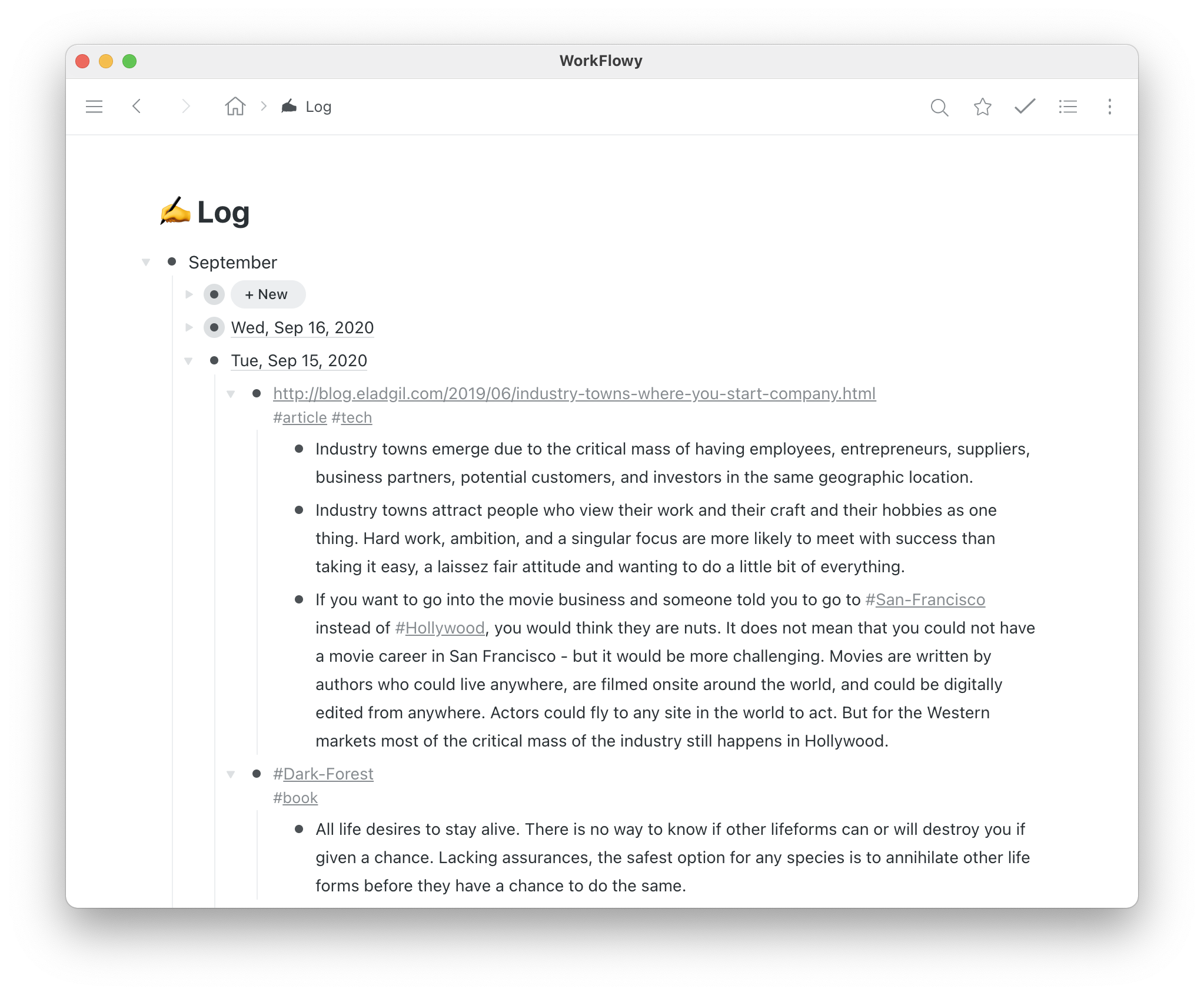 Archives
In Workflowy you don't really need the Archive part as you can always complete any node and it'd be saved in the same place for posterity. I use Archive node for some other things that I specifically don't want to keep in their original place.
PARA is a big concept and I'm not going to reiterate everything about it. I'd like to add that the key to actually making it work for you is reviewing the information. Set up a routine for yourself to review what you're documenting. You can review projects every day, areas every week and resources whenever you feel like it. If you want to learn more, go visit Praxis blog and Forte Labs website.