How to Read Newsletters In An App
Your email app isn't the best way to read newsletters. Especially if you're subscribed to dozens of them. Try a separate app for this.
Media publications and individual authors have largely moved to email newsletters, the only semi-direct which is accessible to regular users and doesn't leave them at the mercy of Facebook or Twitter. Yet email apps haven't really caught up to this (with a few notable exceptions, such as Hey and Big Mail). They force you to read long written pieces in the same interface as that cold intro from Chad.
You might be too busy for a few weeks, and then you end up with hundreds of emails, causing fatigue as you feel overwhelmed by their sheer number. Or you might be getting too many of them every day. Also, not every issue might necessarily be interesting for you. And ultimately, hunting for this small grey Unsubscribe link isn't fun at all.
Thankfully, there are better alternatives. You just need to use another app.
***
How to Collect Newsletters
If you're using Gmail, one thing I'd encourage you to do is to use aliases for email newsletters. Meaning if your email is name@gmail.com, use name+news@gmail.com to subscribe to any newsletter. Then you'd be able to create rules based on this address to quickly categorize, mark or forward them and adjust your workflow on the fly.
Sometimes newsletters won't let yo use an alias, but it doesn't happen that often. So far I've only seen Morning Brew do this.
What options do you have for reading emails? Some of them are single-purpose; in other cases, you have an app that can host your newsletters in addition to its core functionality. It might be a good option if you're using one already.
Feedbin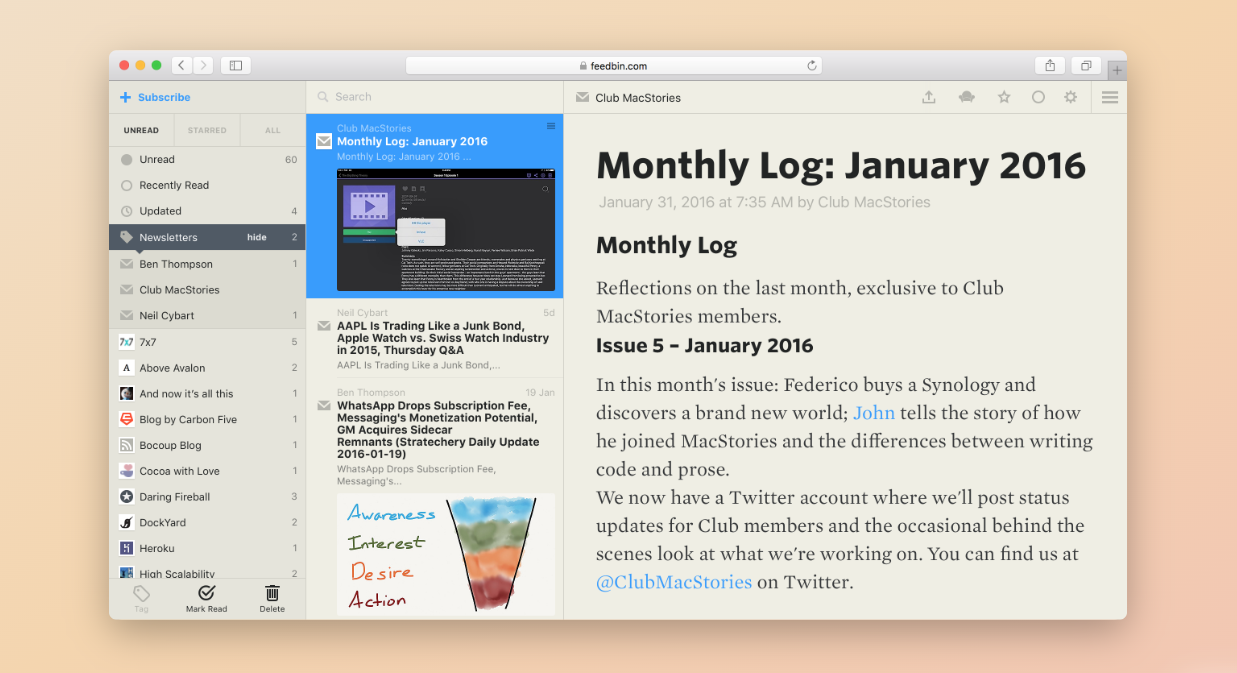 Feedbin is a very powerful online RSS reader. It allows users to subscribe to various news sites and other content sources and automatically receive updates when new content is posted. Most importantly, it gives you a personal email address you could use to forward all of your newsletters into Feedbin and read them there right along with your RSS subscriptions. Feedbin is $5 a month, and it's a great service overall.
Feedbin has a very powerful web version and good mobile apps. But you can also use a third-party RSS app to connect to it. Although reading newsletters will be a bit less pleasant this way – most RSS readers will try to parse newsletters, and results may vary.
Other RSS readers, such as Feedly or Inoreader, also provide similar functionality on their more expensive tiers.
My review of Feedbin is here.
Mailbrew
Mailbrew is an email curation and newsletter subscription tool heavily inspired by Hey. Forward your newsletters to Mailbrew, and then you will have an interface very similar to The Feed. You can also build custom weekly and daily emails that could deliver digests of fresh newsletters to your inbox so you can choose which ones you want to read.
I use this approach now, and I find it quite useful. Here's why:
You can see the beginning of each newsletter issue and can decide if you want to open it and read the full content.
There's no need to archive or mark previous issues, so less fatigue.
You can also quickly share a particular issue with someone simply by using the link.
Mailbrew remembers where you left off.
Since Evan Williams bought Mailbrew, it became free, but I suppose we can't be sure of its future.
My review of Mailbrew is here. It was updated since, but the core features are pretty much the same.
Readwise Reader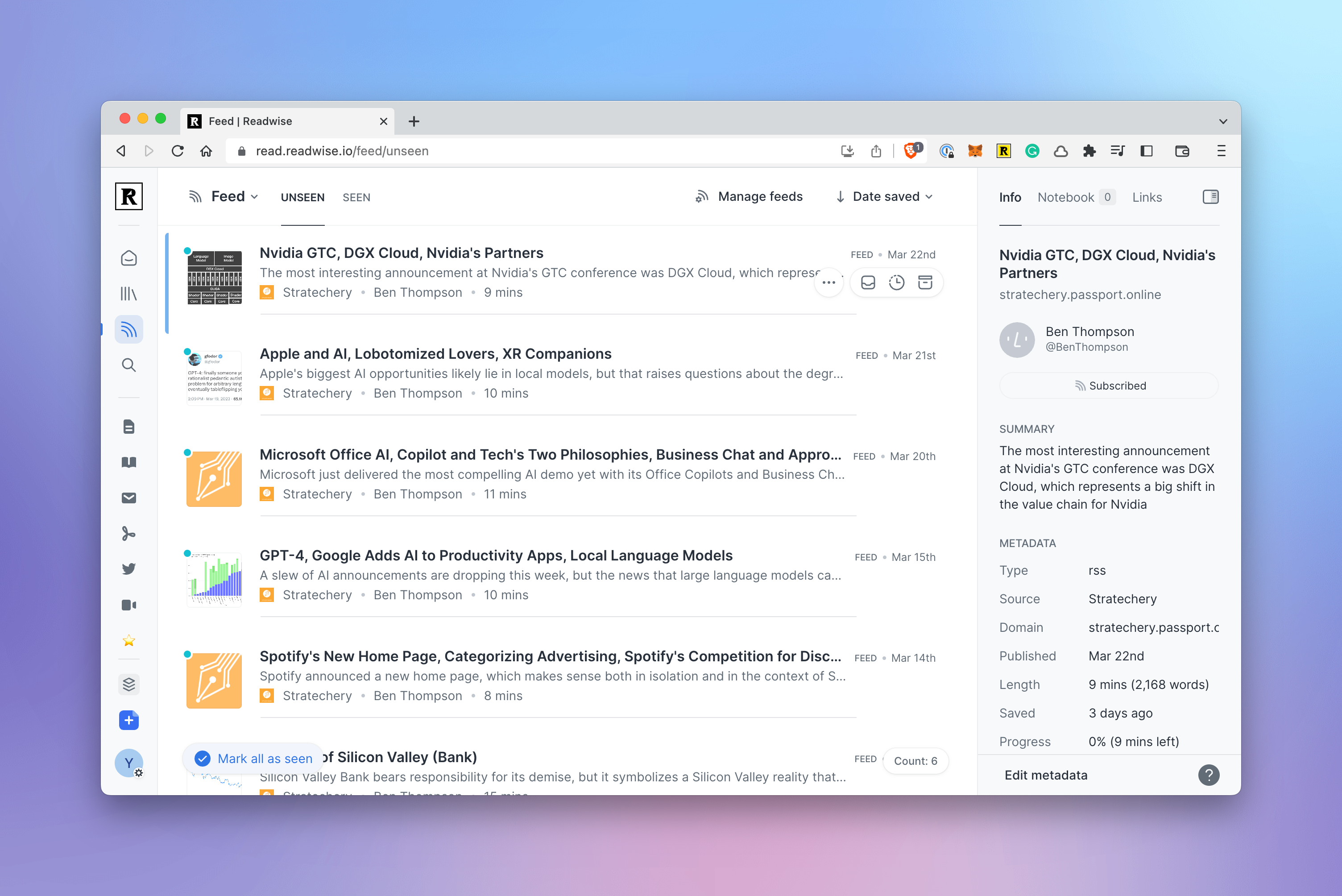 Readwise Reader is an app that helps people save and review the highlights and notes they take from books, articles, and other sources. It also allows you to subscribe to RSS feeds and process newsletters in a single interface.
I'd recommend you be careful about signing up for many authors and publications using Reader, as it can quickly become overwhelming. Also, it tries to process newsletters into text, and sometimes it might not work that well, especially on heavily formatted pieces. But it's a good option for a few key writers you always want to read. And you get all other features: highlighting, tagging, it remembers where you left off.
Reader is my favorite read-later service at the moment, partly because it's great and partly because it's natively integrated into Readwise, which I used even before. The cost for Reader hasn't been announced yet, but the full Readwise subscription is $7.99.
My quick review of Readwise Reader is here.
Matter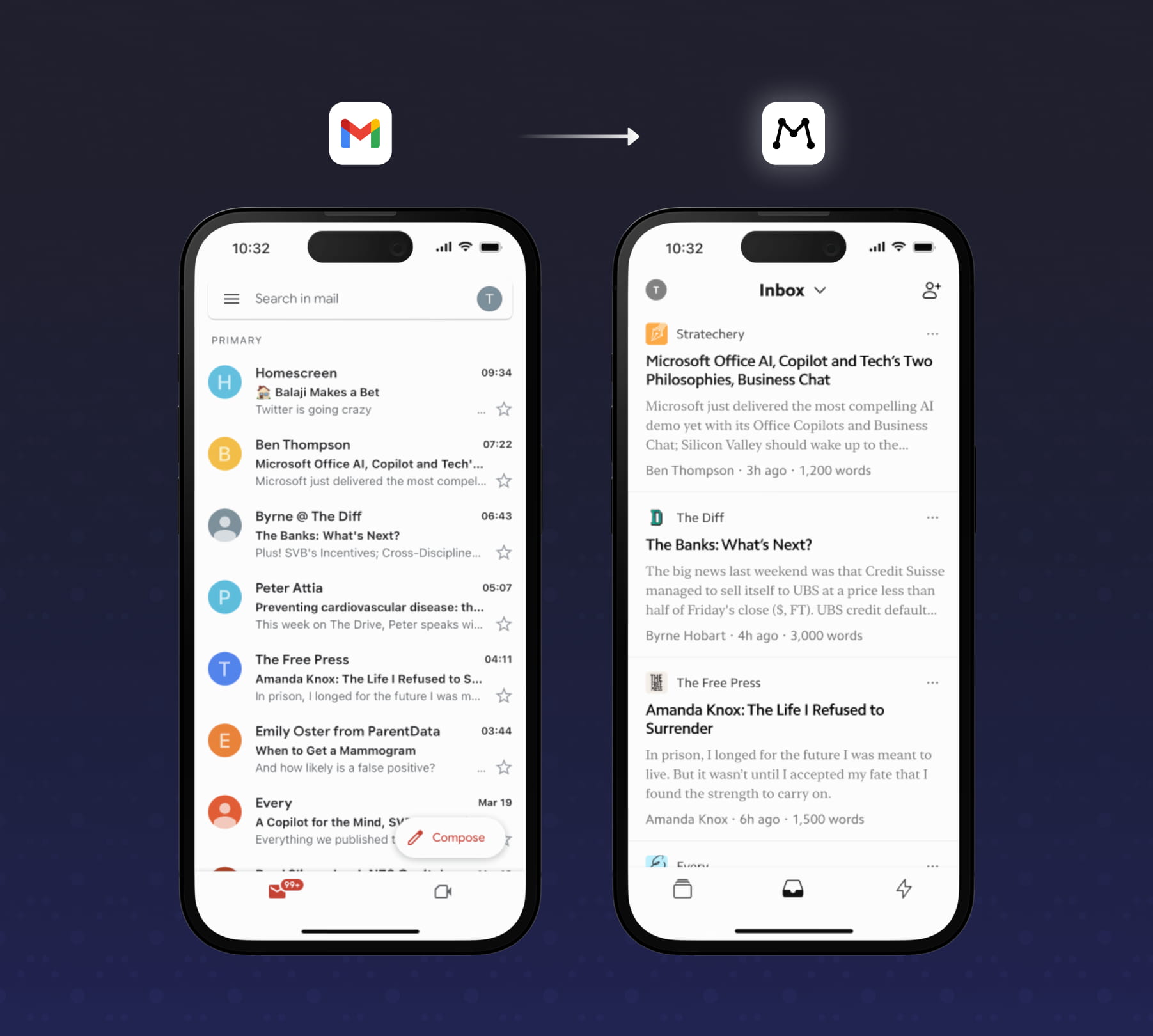 Matter is a modern clean-looking app that focuses on helping you follow your favorite writers wherever they read. In addition to traditional publications and RSS feeds, this includes email subscriptions, like Substack or anything else. Some of the features you'd likely need are behind an $8/month subscription. In addition to the mobile app it's also available on the web.
I previously covered both Reader and Matter as read-later apps, and this article remains useful. While Feedbin is a more traditional RSS reader that can handle other stuff, Matter is like a modern version of Pocket/Instapaper, while Readwise Reader is something between a reading list and a research tool.
Stoop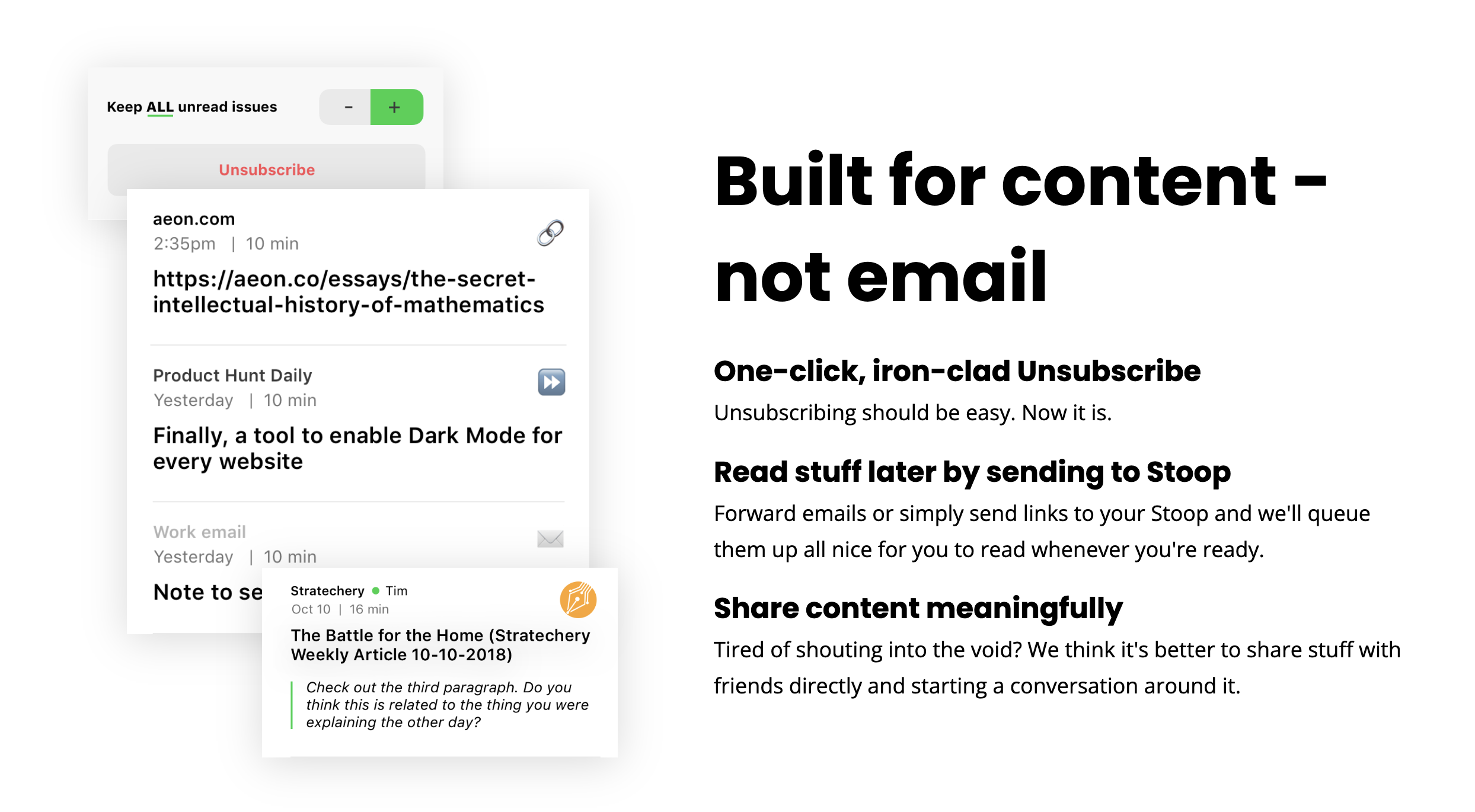 Stoop is a mobile app designed specifically to help you read newsletters. This is the one option I used the least. The entire experience is very mobile-focused, but they also have a web beta now.
I have concerns about Stoop as it seems their iOS app hasn't been updated in two years. Seems it's still working, so I thought I had to mention this as an option.
Stoop costs $10 a year.